Text Messaging Service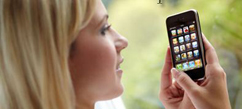 Text message marketing (or SMS) is a direct communication link between you and your customers. It allows customers to sign up with your platform and receive periodic promotions, specials, or freebies. If you treat these people well, they will feel privileged and continue to respond by coming in and buying more goods and services.
A great example is to create a VIP Club, where membership is exclusive and highly valued. We set up marketing materials that say "Text the letters VIP" to your specific number and enjoy special discounts, 2 for 1 limited time specials, and free samples. You then start building your list of customers that you can send messages to when you want an extra boost of sales. Say you own a restaurant and it's a slow night. You text that for the next two hours all appetizers are 50% off. Everybody loves to save money, so you start getting busy. And, if they are there enjoying your appetizers, how many do you think will be ordering drinks? Or dinner? Or dessert? Many of them! What you lose in giving away half price appetizers is more than made up in other sales.
Say you own a bakery. Let's create a Fresh Bread Club and tell people they will receive a text message when a special loaf comes out of the oven. Thursday you decide to bake pumpkin bread. Instead of your competition that worries they won't have enough sales before the bread gets stale, you smile and send out a text to your Club members about the delicious warm pumpkin bread that just came out of the oven, and even provide a code to give them $1.00 off per loaf. Watch you sell out before the day is through!